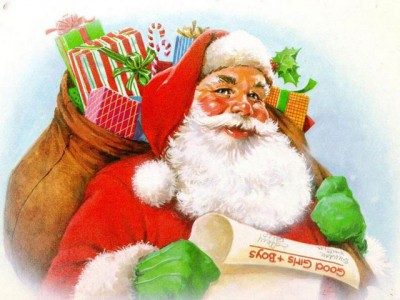 I had two Christmas on my mission, which is sometimes unusual for a sister missionary cause of how it works out with girls going only 18 months and all, (still SOOOOO jealous we couldn't go 2 full years!) Both were great! Full of the spirit and good people, and amazing food (more tamales than I could have ever dreamed of!) But I never had any gifts to open on Christmas morning! Now don't go thinking, HOW DARE HER FAMILY!! While yes, I do have 10 siblings and should have been showered with letters, but I only ever got mail from my mom and dad and 1 amazing sister Shelly who is so amazing and wonderful that she is going straight to heaven anyways, so she didn't even need the extra blessings! (Those three letters were my favorite, and I am not trying to diminishing them in anyway, because they were inspired every week to write exactly what I needed to hear, and Shelly does need those extra blessings cause she has to store up on blessings cause she has 9 heathen siblings to get into heaven!) Now back to the point, I truly never had any gifts to open on Christmas morning! My mom sent these incredible Christmas packages with all the Raynes Family traditions, like Caramel Popcorn and Chex mix, and TON of presents. So it wasn't her fault. IT WAS ALL MY FAULT, NO ONE ELSE'S!! I hate to wait! I am so impatient! I would open the packages the day I got them, and I didn't even think twice about open all my presents right then! I admit, it wasn't the most pleasant experience watching my companions opening present after present without any to open for myself, but that was my own doing and I knew it! They would warn me but nope! I can be a stubborn one! Just ask any of them! :)
Well, I did it again. I couldn't wait until Christmas and we got two of our Christmas Presents today. I guess I didn't learn my lesson because I didn't even pause before cracking into them! :) To be fair, one wasn't wrapped, and it took my amazingly talented father and my fabulous husband a good part of the day installing it and making it work. The other one wasn't exactly wrapped either, unless you count an Amazon Box as wrapping! But I love them both!!!
Here they are!

A WASHER AND DRYER!!!!!
Yes, yes it is true! We finally got a washer and dryer into our basement apartment, and we finally upgraded from our swivel sweeper to a real vacuum! Are we moving up in the world or what!?! he he he
Now I know I am so completely stoked about these two new additions to my home. They will make my life so much easier, and with much less hassle. But my mom is no longer speaking to my dad cause he installed them! (just kidding) She was sad we weren't going to be coming over every week for a few hours to do our laundry, so to save their marriage (also a joke) we promised to keep up the weekly visits, but with less baggage! So THANK YOU DAD! and THANK YOU BRYAN! for my early Christmas Presents. Hopefully I will still have at least one thing to unwrap on Christmas Day!